Buying a cloud monitoring software solution can be a daunting process. You will need software that can be automated for any cloud infrastructure, provide visibility within critical business applications, and meet your organization's budgetary restrictions.
What is cloud monitoring software exactly?
Cloud monitoring software is a network management platform that monitors cloud security procedures and performance. The most comprehensive cloud monitoring solutions monitor the network as well as traffic, email, alerts, plug-ins, and storage. Especially as cyber attacks become more prevalent, it is important for cloud monitoring solutions to detect possible breaches, identify security gaps, and secure a network before an attack happens.
Understanding the challenges that companies face when researching software is where PeerSpot shines with its buying intelligence. In this PeerSpot comprehensive free report, PeerSpot real users of cloud monitoring software provide buying intelligence with their insights and in-depth explanations.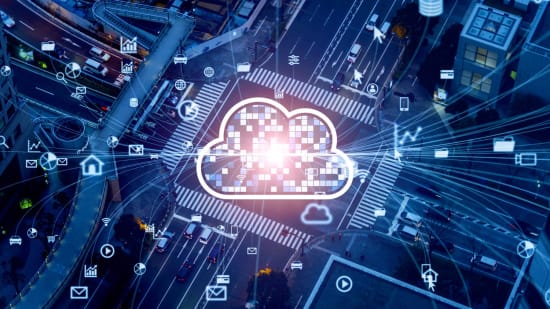 Why should organizations consider buying cloud monitoring software?

1. Creates a visual map displaying resources and cloud infrastructure using real-time analytics
Visualization is key when it comes to managing cloud resources, showing the status of your IT estate and the health of your organization. Also, understanding how applications are functioning in a clear, meaningful way can make the difference when quickly trying to find a resolution to an issue.

Chris P., an IT Infrastructure Analyst at a large aerospace/defense firm, discusses the visibility product feature of SolarWinds NPM and its benefits: "I find NetPath to be very valuable. It visualizes that traceroute that you can share with anyone in the business. For example, when they say, 'Hey, what's going on? The network's slow because my application or my server's having issues.' You can show them this nice graph that visualizes where there may be congestion or if there isn't any congestion at all."
2. Identifies abnormal activity or performance
Even if everything is working, that doesn't mean you have resolved all your performance issues or are protected from attacks. Cloud monitoring software allows you to understand your infrastructure so you can focus on areas that might be putting the organization at risk.

A Senior Director working for a large tech vendor mentions how Datadog helps protect against attacks: "It's helped us when we've needed to monitor users and what they access or needed to identify security loopholes and attack patterns. It can help identify and quickly respond to issues."
3. Reduces manual effort
By applying rules and machine learning techniques, cloud monitoring software can learn the behavior of your applications and apply a fix when something isn't quite right. Instead of having your teams open manual tickets to a service desk, these tools can automatically resolve issues, learning from previous issues and continually improving their resolution time.

Al D., a Network Tool Manager at a large financial services firm, notes how their cloud monitoring software's automation has saved the organization time: "The alerting has saved us time because the operations team can see them act immediately. Also, an incident ticket is created automatically. We used to have to manually check to see which devices were either having issues, or we could reasonably expect was going to have an issue, and then create a ticket manually. Using SevOne, all of this manual work has been automated."
4. Provides benchmarks to ensure optimal performance
Benchmarking with cloud monitoring software lets you understand your IT infrastructure and how well your department is performing. You need to understand your capabilities before you develop your service delivery and support strategies.

Iain, Director of Technology at a tech services company, points out how their solution, Auvik, provides benchmark benefits: "Auvik gives you historical benchmarks and reports, and because we already have the history of it, to troubleshoot, the ISP doesn't have to start gathering reports from that point."
Valentin B., a system engineer at a medium-sized financial services firm, also discusses how benchmarking improves performance: "Centreon is great for helping to drive business performance and excellence and aligning IT operations with business objectives. It improved performance in terms of understanding the past. If it's very well configured, someone can fix a problem quickly."
5. Allows your IT department to be proactive
There is a constant drive to have IT do more with less and do it better. Detecting and fixing issues before they happen has multiple benefits for IT departments:

Your organization saves time and money.
It prevents system downtime and any adverse effects.
It protects the reputation of your IT department by avoiding unhappy customers.
Faustine C., an Engineering Supervisor for Corporate Data Solutions and Services at medium-sized comm service provider, extols the proactive benefits of their cloud monitoring software: "Zabbix has greatly improved our operations and maintenance by helping us be more proactive. We can easily spot problems or undesired states on our infrastructure or customer services."

A good cloud monitoring software solution has real-time analytics, offering a clearer picture of how your applications and infrastructure are working. With this information, you can focus your strategies, set realistic goals, understand where improvements need to be made, avoid issues, and track performance over time to see if you're heading in the right direction. If you are looking to compare cloud monitoring software as part of your buying decision, definitely check out PeerSpot's comprehensive free report.