RPA Best Practices for Successful Implementation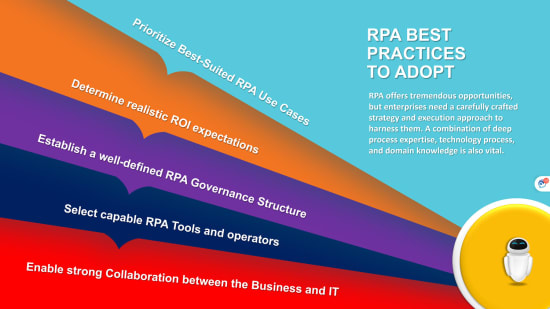 Best Practice's : Establish RPA Operating Model 
Establish a RPA COE: Primarily overseen by Operations Team
Align with Business improvement and reengineering groups
Technology team appointed Head of Automaton to assist in software selection & support RPA CoE Initiatives.
Central COE group for standards, controls, and product release management.
Develops Best Practices to be applied across processes & business units.
Establish Change Management & Governance Framework: Involve all key stakeholder including IT representation (architecture, security & SI) business leaders & process leaders.
Framework includes: Enterprise Robotics council to set targets & track execution efficiency & outcomes.
Business unit governance council for prioritizing RPA projects across departments & business units
RPA technical council for maintaining standards, guidelines, and best practices.

RPA Governance Framework:
RPA Governance – a term for the leadership, structures , rules and processes around RPA.
It holds the key for unlocking the tremendous potential of RPA initiatives.
It encompasses a variety of issues, ranging from stakeholder rights to decision-making processes and control systems.
It help organizations to deal with all elements of good governance: