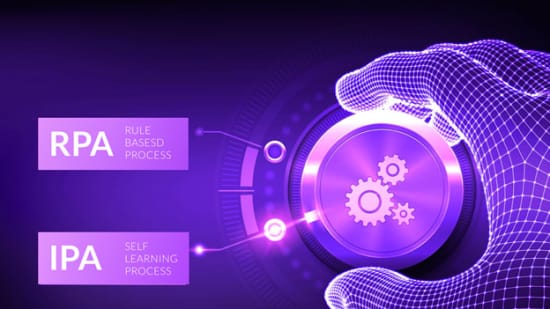 What Is Intelligent Process Automation?
Intelligent process automation (IPA) refers to tasks that are automated or optimized in part by artificial intelligence and machine learning algorithms. IPA tools can reduce human intervention in a variety of business processes.
IPA solutions go beyond simple, rule-based tasks. For example, IPA tools can apply artificial intelligence to process unstructured data, something that many RPA tools cannot do, or to provision IT resources to ensure critical SLAs are maintained. Another example can include the use of machine learning algorithms that enable the IPA tool to improve task performance over time.
Intelligent Process Automation vs. Robotic Process Automation
Intelligent process automation is often regarded as being the same as robotic process automation (RPA). This is only half true. While robotic process automation is often a key capability of IPA platforms, IPA does not necessarily have to include RPA.
Robotic process automation refers to tools -applications, platforms, or scripts- that automate simple, rule-based, repetitive tasks. These tasks are often time-consuming when done manually. For example, instead of collecting phone numbers from applications, an RPA tool can be trained to automate the task.
However, the problem with RPA tools is that they are rigid because they are rule-based. If the company updates its form, or a customer enters information into the wrong row, the RPA tool won't be able to successfully complete the task.
This is where intelligent process automation is frequently used –at the point where RPA is no longer effective. By leveraging artificial intelligence, an IPA tool can complete more complex processes that incorporate a variety of new and emerging technologies.
Artificial Intelligence And Machine Learning For IPA
The use of AI and ML in process automation enables IPA platforms to go far beyond the front-office and back-office tasks RPA is used to automate.
Artificial intelligence, for example, makes it possible for IPA platforms to analyze both semi-structured data and unstructured data necessary for natural language processing (NLP), intent detection, and other cognitive technologies. This allows users to build complex workflows for chatbots or responding to customer requests.
So whereas RPA tools are used to automate tasks that already exist, IPA tools give users the opportunity to reimagine existing processes, or optimize those processes with deep learning, or use new technologies such as intelligent decision making to create innovative new processes.
IPA platforms also leverage machine learning algorithms that analyze historical and real-time data in order to optimize processes both in real-time and in the future. For example, by automatically routing workflows based on their predicted runtimes, log contents, or flow control to auto-remedy problem workflows. However, designing and optimizing processes is still only part of the IPA picture.
Benefits of intelligent process automation
The benefits of using IPA include:
automation of previously manual and repetitive tasks.
optimizing worker productivity by freeing them of routine tasks.
coordinating work between software systems and people.
providing end-to-end visibility of processes and customer journeys.
can help improve customer experience;
reduces processing errors.
decreases operational costs and transaction processing time, and
makes it easier to adapt to changes in the process.
Current and future use cases
Because IPA and RPA are similar in nature, as soon as an organization has a stable RPA environment, they can extend that environment with IPA -- using the previous environment as a foundation. Using IPA, organizations can replace previously manual and repetitive tasks, interpret text with NLP, make machine-based decisions with machine learning, provide tracking for systems and people, as well as offer customers suggestions using cognitive agents.
In the past, there was more of an argument to be made about whether an organization should use IPA versus RPA. Now, however, it's accepted that organizations could use IPA to cast a broader strategy around RPA. Rather than having all the technologies involved with IPA deployed individually, an IPA tool can tie them together to form more agile and stable business operations.
Organizations in insurance, banking and general enterprise industries could make use of an IPA tool. An example IPA use case would be when an organization needs to gather data for customers that would normally take up a large amount of time. An IPA tool could interpret the needed text and make decisions on how to share that data and offer suggestions to the customer based on their input.