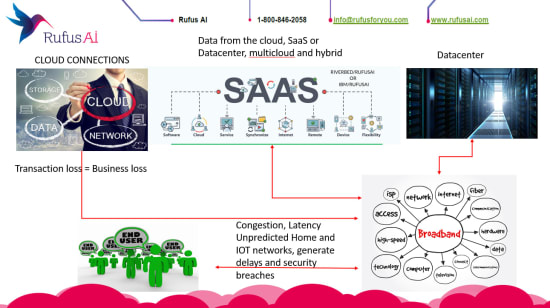 End-users can connect with different options: by cloud (AWS, Microsoft Azure or other cloud providers), by a SaaS solution or from their own datacenter. The next option is Multi Cloud and hybrid - this makes it difficult to find reasons for a performance problem. 
Now users have to deal with many options for their network. You have to take into account problems such as latency and congestion, and now an added a new layer because of Covid-19. Normally you work in an office space as an end-user and your network team takes care of all the problems. Now everybody is working from home, and many IOT devices are connected to our home network - are they protected? It is easy for a hacker to use these kinds of devices to enter your office network. 
How can we prevent all of this? With a security tool like QRadar or Riverbed. The most important thing to know is that you don't need a APM solution only. Many times, I hear people say,  "We have a great APM solution." Well, this is great for application response times, however an enterprise environment has many more components, like the network, load balancers switches and so on. Also, if you're running power machines you have to deal with microcodes and sometimes with HACMP - an APM solution will not monitor this. 
Bottom line: you need a holistic solution.