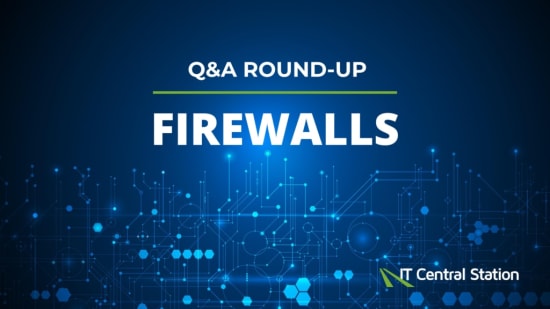 Members of the IT Central Station community are always happy to help other users by answering questions posted on our site. These answers are not only helpful to the person asking the question, but also to other users who are doing product research.
In this Q&A round-up, we'll take a look at answers from our users about: the most important aspects to consider when evaluating firewalls, and firewall recommendations for a small retailer.
You've been tasked with selecting a Firewall for your company. You've started researching different solutions, and the options are endless. What aspects of firewalls are most important when choosing one?
IT Central Station users have given their opinions of what is the most important aspect to take into account when evaluating firewalls. With a wide variety of opinions in the answers, one thing is clear – there isn't one single aspect that can determine what's the best firewall.
it_user339975 emphasized that the first step in selecting the right firewall starts with knowing what your network needs are: "The most important aspect to look for is relative to one question: How informed are you with the actual needs of your network? Overall I think there are too many specific details to choose any one primary aspect when selecting a security appliance and/or firewall device based on functionality alone." He further explained that each individual case requires in-depth research depending on one's specific network needs.
Bearing in mind that there are many considerations, here's a snapshot of a few of the aspects that users mentioned:
Stability
Performance
Extensive logging
Price
Good support
Scalability
Good reporting abilities
One of our users wanted recommendations for the best network firewall for a small retailer. As always, users were really helpful and gave product recommendations. Some recommendations included Fortinet, Sophos XG, Palo Alto, pfSense, Cisco FirePower, SonicWall, and Check Point.
In addition to some good recommendations, some users also offered some advice about selecting a firewall in general. Mike Hancock noted that opinions on what is the "best" firewall differ widely, and that Firewalls and firewall vendors as well as the people that implement them are very partial to what they are familiar with. He suggested that the right question to ask is, "What are you looking for and need in a firewall?" 
Another user, Ray Kingdon, pointed out that the most important considerations for selecting a firewall are budget and the person managing the firewall: "If you spend £40k on a firewall and have an idiot configure it and administer it – the firewall is next to useless, what ever Vendors product you buy!!"
More Firewall recommendations from our user community
If you're researching Firewalls, there's a wealth of information on our site that can guide you in your research. You can read in-depth reviews of firewall solutions, and also explore the other questions and answers about firewalls from our user community.
If you don't find the exact answers that you're looking for, you can also post a question and get answers from your peers.
IT Central Station is here for you, to learn and help your peers. In a market full of vendor hype, we enable you to get real, unbiased information from people like you.